Its intense regenerating action based on plant extracts and essential oils nourishes, restructures and strengthens, giving the hair sound and energy. Particularly suitable for fine and weak hair.
How to use: apply to washed and towel-dried hair, massage and leave on for 3 to 10 minutes depending on your needs. Comb and rinse thoroughly.
Weak hair?
Brittle, thin with little volume and split ends, what are the main causes of weak hair?
Chemical processes

: such as those of coloring or changing the structure of the hair, damage the cuticles and make the hair weak.

Excessive heat

: Subjecting the hair to excessive heat using hot styling tools regularly damages the cuticles. When heat is applied to the hair shaft, the cuticles rise and let in excessive moisture. All this reduces the tensile strength of the hair and makes the cuticles unable to protect the hair from harmful external factors.

Proteins

make up the bulk of the hair structure. If the follicles do not get enough protein, the hair becomes weak, brittle and prone to damage
PRODUCT PROPERTIES
Where does the revitalizing and detangling action of our hair mask comes from?
Horse chestnut

: It cleanses the skin in a non-aggressive way and without interfering with the skin, and is useful in cases of hair that tend to get dirty quickly. In addition, it strengthens the hair shaft giving greater firmness and brightness and stimulates hair regrowth.

Serenoa repens

: it is a natural and alternative solution that effectively prevents and fights hair loss. is able to counteract hair loss. Helps to fortify the hair, maintaining a healthy structure.

Silicone and Paraben-Free: It respects the natural hydro-lipidic barrier of the scalp and hair, delivering optimal nourishment and hydration to the tips and lengths
Frequent questions:
Can this detangling mask be used on the hair as a treatment before shampooing?
We recommend using Energy Mask after shampooing. It should be applied to washed and towel-dried hair. We suggest leaving the product on for 3 to 10 minutes depending on your needs. At the end of the treatment, comb and rinse thoroughly. Also try the energizing shampoo for weak hair.
Is it possible to buy other hair masks with a detangling effect in your online store?
Yes. We invite you to consult the page dedicated to the masks of the Natù line. You can find Cocò Mask, our coconut detangling hair mask and Mint Mask, based on mint.
Natù is our cosmetic line with exceptional characteristics of biocompatibility and purity. For more information, do not hesitate to contact us.
The most common causes of knots in your hair and how to untangle them and make them stronger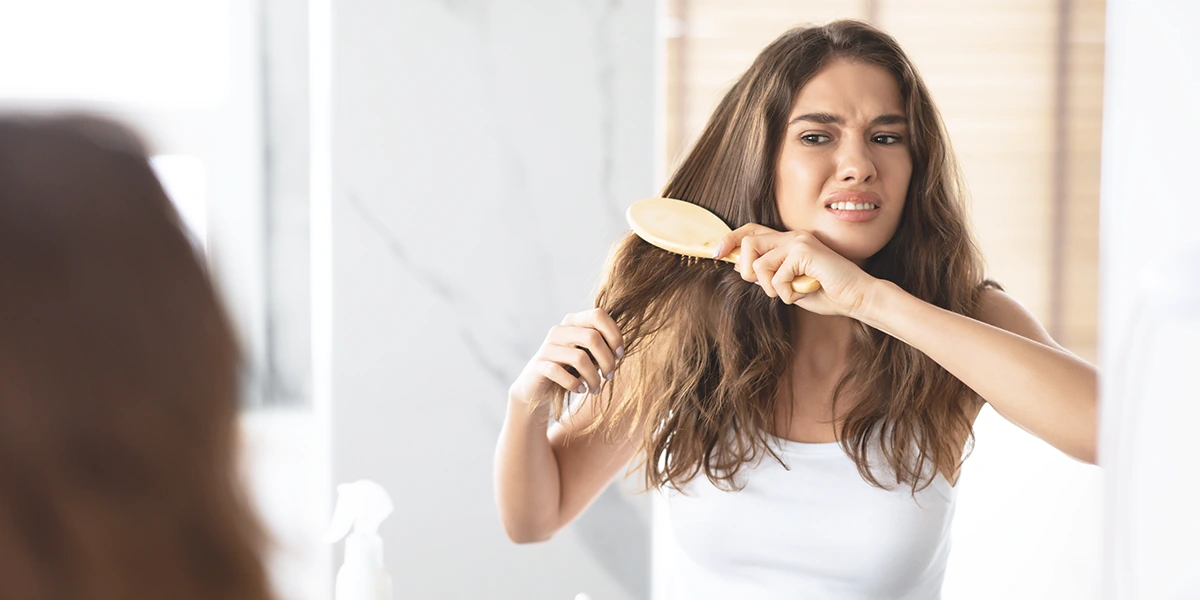 On this page we have already told you about the strong detangling power of our Energy Mask revitalizing hair mask. The topic we want to delve into now is what are the most frequent causes that lead to the formation of knots in our hair and how to avoid them.
Knots are a very common problem because they can occur on all types of medium-length hair, both straight and curly.
The presence of knots often indicates unhealthy hair on a structural level. Frequent washing, drying and using a comb also contribute to weakening the hair. The scales lift, creating even more friction.
To solve this problem, it is therefore essential to understand the main causes that lead to dryness of the shaft and damage the structure of the hair.
Below you can find the most common causes:
Using the straightener at too high temperatures and excessive heat from the hairdryer
Exposure to the sun for too long
Attack by atmospheric agents such as salt and wind
Coloring and bleaching processes
Treatments such as perms or straightening
Frequent use of products that contain alcohol such as some gels, hairspray or mousse
Furthermore, rubbing your hair against the pillow during the night, especially with loose hair, is one of the causes of knots forming in our hair.
Even the use of scarves, hats and sweaters during the winter season are common causes that can lead to this problem, as can the use of unsuitable combs.
Finally, the use of particularly aggressive washing and styling products can lead to the formation of knots that are difficult to untangle.
The hairbrush, the most common cause of those much hated knots
All these actions create damage to the hair structure, starting mainly from the external layer of the shaft, which is composed of a long series of cuticles.
These are nothing more than flakes of keratin facing the tip of the hair and arranged in a row along the entire surface of the shaft itself.
When the cuticles are healthy, they create a flat and compact structure, facilitating the passage of the brush. In the case of brittle hair, however, the cuticles are altered, being more raised than in healthy ones.
In this case when you pass the brush they create friction, preventing the natural sliding of the keratin fibers and also making it difficult to eliminate residues. Due to this friction, the formation of those much hated knots will occur more easily.
Hair knots, the solutions
Fortunately, there are various solutions to remedy this problem and encourage healthy brushing.
The first and most important is to keep your hair healthy and hydrated. The best thing is certainly to periodically use a detangling and revitalizing hair mask like our Energy Mask. This product has a restructuring function and should be left to act for at least a few minutes along the entire length. This way you not only combat the formation of knots but you will also help prevent split ends and strengthen weak hair.
From the same line we recommend Cocò mask, the intensive coconut hair mask that provides silky hydration and intense and immediate detangling for vital and protected hair, with an effective nourishing action. Also absolutely worth trying is Mint mask, the refreshing and soothing mint mask.
Secondly, it would be ideal to wash your hair a maximum of 3 times a week. Too frequent washing is not healthy for your hair because it only ends up exploiting it and weakening it even more.
Another thing to pay attention to is definitely drying. Dry your hair with the hairdryer keeping a certain distance and do not use too high a temperature.
Going to sleep with wet hair should also be avoided. Not only because it can cause muscle pain and headaches, but also because when wet hair has scales that are not completely closed. For this reason they tend to intertwine and weaken more easily and over time they can break more easily.
Other suggestions
Trimming the lengths of your hair periodically is another way to avoid one of the causes of knots. As previously mentioned, keeping hair brittle and with split ends for a long time facilitates the formation of knots and the general weakening of the hair.
In the case of straight hair, brushing it often helps to maintain clean and untangled hair. On the contrary, in the case of curly hair, the ideal would be to brush it with special brushes or wide-toothed combs. Even better when wet immediately after the mask wrap. If you love a long-lasting curly hairstyle, don't miss our in-depth analysis dedicated to the 6 myths to dispel about professional hairspray.
Furthermore, they should be brushed one last time after washing while the hair is still damp, and then continue with drying, ideally with a hairdryer using the diffuser.
Finally, for those who don't particularly like their hair blowing in the wind, a piece of advice would be to preferably gather it in a braid or with a chignon. Use soft elastics that do not tighten the hair excessively, to prevent it from weakening further.
Starting from these simple measures you will be able to give new life to your hair. Your hair will be healthy, clean and detangled and you will finally be able to show off light, tangle-free hair.
How to protect your hair from the cold, a revitalizing detangling mask and 8 practical tips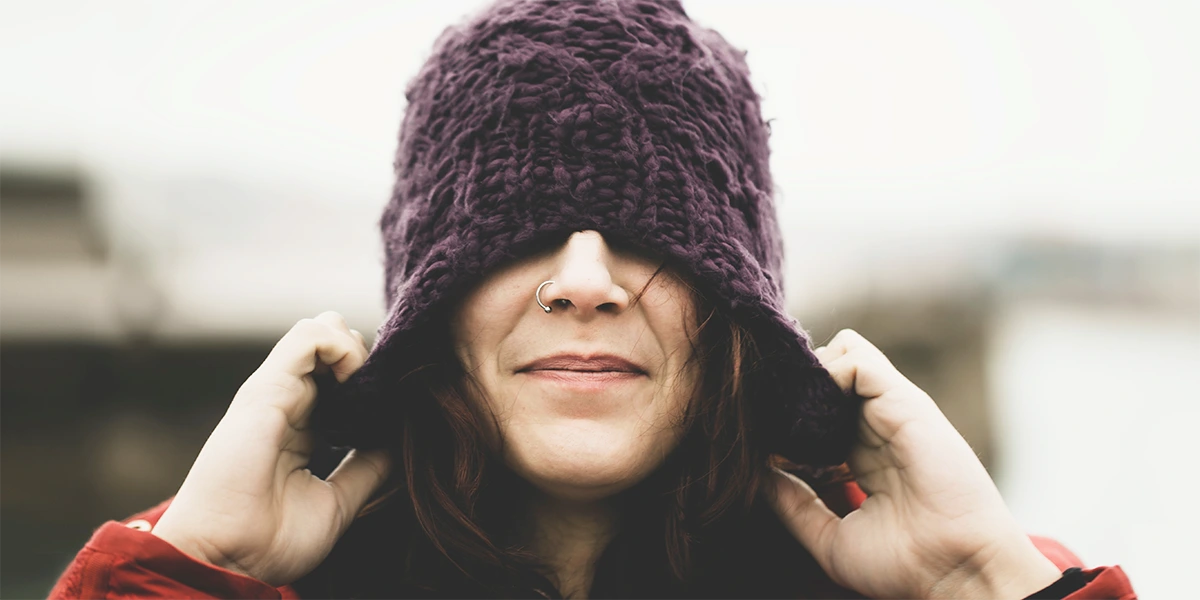 When the first temperature changes are coming we are forced to protect our hair from the cold, let's see how with a revitalizing detangling mask and 8 practical tips.
With the change in temperature, the body begins to suffer a certain degree of stress and so does our hair which gradually becomes drier and more fragile, thus leading to a general structural weakening.
In addition to low temperatures, the use of heavy clothing such as sweaters and coats can also cause some damage. In particular, the use of hats and scarves, even worse if made of synthetic material, causes constant friction, sometimes creating electricity. In this way the hair is increasingly sensitized, resulting in it becoming even duller, dryer and duller. Once damaged, not only will they struggle to hold the style, but they will more easily tend to become frizzy and unruly.
How to give hair shine and lost energy
To get rid of knots and frizzy hair, and allow for easy combing, we can use a shampoo, or even better a detangling mask that will protect the hair from the cold, containing some plant extracts and essential oils. In fact, in addition to making the hair acquire tone and volume, they nourish and restructure it in depth. A mask and a shampoo with these properties are also suitable for fine and thin hair, as they are able to further strengthen the hair structure, giving it strength and vigor.
Due to the stress caused by the cold, a detangling mask is ideal to treat your hair, but first of all use an energizing shampoo to restore its energy. By massaging it well into the skin using circular movements, it acts deeply on the scalp, stimulating the growth of the hair bulb and restoring the well-being of the hair. Furthermore, thanks to its toning and soothing action, it is able to prepare the hair for the application of the detangling mask.
In these months, when we are witnessing a drop in temperatures, we advise you to give tone and volume to your hair, with a revitalizing, hydrating and soothing hair mask. Thanks to it you can easily regenerate the structure of your hair thanks to its detangling, energizing and revitalizing effect. It is definitely the best choice during cold winter days. Applying the mask is very easy. Simply distribute it evenly over the lengths to create a compress and leave it on for a few minutes. In this way the hair has the necessary time to absorb all the nutritional properties it needs.
Did you know that stress is the number one enemy of the premature appearance of gray hair? Discover our remedies against gray hair for men.
Why choose Energy Mask, the detangling and revitalizing hair mask
It seemed impossible to find a hair mask that combined detangling, energizing and revitalizing power but we did it.
Knowing these problems well, we have specifically created Energy Mask, the mask with strong detangling power which, combined with the double energizing and revitalizing action, manages to once again give the energy your hair needs to fight the cold. In addition to having a strong nutritional power, through its formula based on plant extracts, it can easily reach the hair shaft to give it strength and structure. In this way the hair acquires tone and compactness and is firmer and stronger at the root. If you have very fine and naturally weak hair, before applying the mask we also recommend applying the Energy energizing shampoo, which thanks to its natural active ingredients effectively fights hair loss by stimulating its growth. Now is the time to show off beautiful, strong and healthy hair!
8 practical tips against the cold
Below we also want to give you some advice to keep the well-being of your hair alive even in winter:
Always use a brush, preferably with natural bristles (like wooden ones), to prevent your hair from becoming electrified.
When shampooing we recommend that you always use lukewarm or preferably colder water. In fact, the cold jet easily closes the scales present on the hair shaft, making it appear brighter and healthier.
Avoid using a hairdryer that is too hot and too close to the skin, and limit the use of the straightener.
Don't leave your hair wet after washing: this will only make it weaker and frizzier.
When tying your hair, choose only soft elastics or create hairstyles that are not too tight (a soft braid is ideal).
A very useful technique is to massage the skin well with the fingertips to reactivate micro-circulation. You can easily do it both before and during shampooing and it is a very simple practice.
Try to take care of your diet! Preventing dryness and dehydration is easy if you consume lots of fruit and vegetables. In particular, fill up on vitamins such as B, C and E and consume foods rich in Omega 3 and Omega 9 (such as fish and dried fruit).
The difference in temperature between inside and outside is another common cause of weakening hair. In winter we often stay in closed environments where air circulation is almost absent and heating creates a very dry environment. In this type of environment the hair becomes more fragile and undergoes severe dehydration. The right solution in this case is to use a humidifier to ensure the right level of hydration in the air. This will prevent your hair from becoming frizzy and tangled easily!
Conclusions
These are just some of the simple practices you can adopt every day to avoid further damaging your hair. If your hair is already damaged or you notice particular weakness, the best solution is certainly to treat it immediately with the appropriate professional products to solve the problem. By using the right products together with a few extra precautions, you will be able to make your hair shine even on the coldest days!